Children & Youth Programs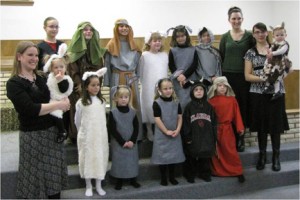 We, at Bible Baptist, understand it is our responsibility to raise up the next generation of leaders for the Lord's work. With that particular understanding, we believe it is never too early to teach children to faithfully serve the Lord. Along with a specialized Sunday School program and active children's choir, we offer Children's Church and Junior Church designed specifically for the child's age group on Sunday Morning. Bible Baptist Church also offers a sound and solid Youth Department for both Junior High and Senior High teenagers. Activities include such things as Summer Camp, Mission Trips, Monthly Outings, Youth Choir, Youth Visitation, Youth Rallies, and much more.
We have trained volunteers who selflessly give of their time to see both children and teenagers brought under the teaching and preaching of the Gospel of Jesus Christ and the truths of the Word of God. While we are not geared for merely babysitting, we are geared to train young people to unashamedly follow Jesus and to build relationships with others their age who are doing the same.