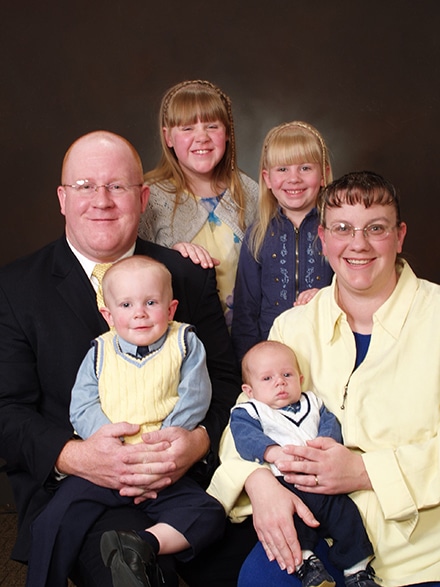 Pastor Jeremy Taylor was born in the small town of Rusk, Texas. As a child, he grew up just south of Fort Worth, TX. At age 13, Dr. Taylor's dad accepted the pastorate of Bible Baptist Church, Walters, Oklahoma, so he moved north of the Red River with his dad, mom, and four older sisters. As a teenager, he attended the Walters High School (Walters, OK), where he later graduated with honors. After graduation, he attended Murray State College in Tishomingo, OK. Following his first year of college, the Lord began to intervene in Pastor Taylor's life and he was gloriously saved at the age of 19 years old. Shortly thereafter, he surrendered to the ministry, withdrew from Murray State, and entered Bible College while supporting himself as a welder in Duncan, OK. He currently holds a Bachelor of Theology (ThB), a Master of Arts (MA), and a Doctor of Religious Education (DRE) from Great Plains Baptist Divinity School in Sioux Falls, SD. Dr. Taylor was licensed to preach in 2001 by Bible Baptist Church (Walters, OK) and then ordained into the Gospel Ministry on March 12, 2004. His ministerial experiences involve pastoral staff, chaplaincy, evangelism, preaching, teaching, counseling, crisis intervention, missions in addition to being a guest speaker at several seminars, conferences, and youth camps across the country.
Along with pastoral duties, Dr. Taylor is a devoted family man. He and his wife, Jennifer, have been married since March 2002. Mrs. Taylor spent ten years in the country of Papua New Guinea as a child with her parents who serve as missionaries. Mrs. Jenny, as she is affectionately called, serves faithfully by her husband and helps direct several of the ladies' ministries within the Church. In December of 2004, the Taylors had their first child, a girl named Kristiana Ruth, and then in December of 2007, they had their second child, another girl named Lydia JoAnn. In March of 2011, Joshua Robert, was born. Timothy Glenn is the newest member of the family.
Dr. Jeremy Taylor had been the director of Blessed Hope Correctional Ministry for eight years before accepting the pastorate of Bible Baptist Church (Duncan, OK) in May of 2008. He ministered in facilities across Southern Oklahoma and North Texas including county jails, state medium and maximum security units, and a military federal facility on Ft. Sill, OK. Pastor Taylor is also the chaplain and a commissioned deputy for the Stephen's Country Sheriff's Offices as well as the chaplain for the Oklahoma Association of Chiefs of Police. He is currently setting up a state-wide chaplaincy program in order to implement chaplains into law enforcement agencies that do not have a chaplain along with establishing a network of chaplains and qualified personnel to deploy throughout the state in case of a large scale disaster. Dr. Taylor also serves as a chaplain with the United States Service Command for the Oklahoma City MEPS (Military Entrance Processing Station), where he holds the rank of Major.
Pastor Taylor has a sincere zeal coupled with a firm competence to teach people to joyfully and faithfully honor God. He is excited about what the Lord is doing through the Bible Baptist both here in Stephens County and across the Globe.